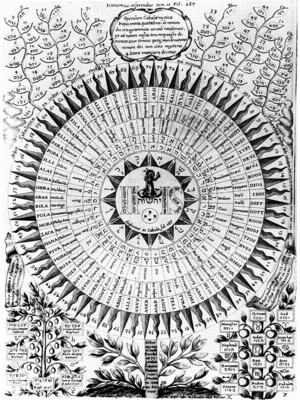 As part of my dissertation research I have been coming across numerous types of Christian mysticism popular during the Renaissance (it's a long story, but basically I am researching the influence of magic, science, the occult, and theology on music in Prague in the late 16th century and early 17th). At first many of these beliefs seem ridiculous to me, but then I realized that in 500 years many people, including Christians, will likely look back at our system of religion, from evangelical to our own emergent, and also find it laughable. And yet, they will still be followers of Christ.
I would like to explore some of these mystical ways of thinking over the next few weeks on the blog. Many of us like to speak about the mystery of our faith, but few of us do much to encounter that mystery. Also, since we desire to be in dialogue with all of our brother and sisters in the faith, it is worthwhile to explore the different ways people have practiced it, even if those people have been gone from this earth for centuries. Now, there are certainly still people with mystical practices today, and if any of you come across this blog we would honestly love your thoughts as we strive to come to a better understanding of different religious practices. However, most of us will primarily be in contact with our mystical brethren through their writings.
The topic that has been most fascinating to me lately is the Christian Cabala. During the time I study this was extremely popular and is directly related to, though not the same as, the Jewish Kabbalah (Wikipedia article
here
). As a gross oversimplification, they believed that there were two laws passed down, the written and the oral, both given to Moses. Also, and this is the more famous part, they believed in gematria, which was using numerology with reading scripture (all words had a numeric value, and could be switched with other words that had the same value). The core behind this belief was twofold: first that written scripture was divinely inspired, and second that there were numerous hidden messages for the faithful to discover – which explains why so much of the Torah seems so very unsacred- the sacred part was hidden.
Anyway, there was one belief in particular that I thought I would raise as an issue for discussion. It was widely believed that in order to create this world God had to lesser himself. This is because a perfect being could not create an imperfect world. There were more justifications for this, but we need not get into it right now. Please, share your thoughts both on this issue and on mysticism in general as we begin what could prove to be a very interesting journey.